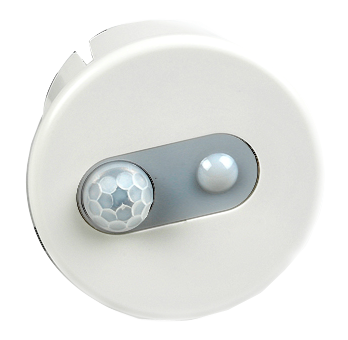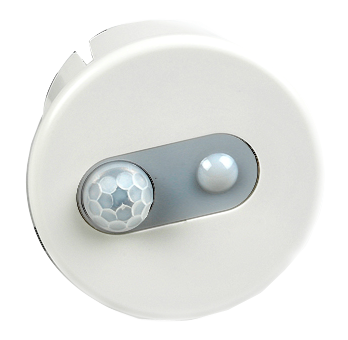 MS2 Series
MS2 Series multi-sensors combine in an extra small device, a wireless receiver, a presence detector, a light level sensor and a temperature sensor. This enable Distech Controls' RCL Series controllers to receive input signals from wireless remote controls and to acquire presence, light level and temperature information to control all comfort parameters in a room according to the occupancy status.
Possibility to adjust the multi-sensor sensibility.
Small and discreet accessory (visible part: ø 1.5'' x 0.3'' - ø 40 x 8 mm)
Combines several sensing technologies
A receiver: to transmit orders emitted by a remote control..
A presence detector: to be detected, a person has to move in the multi-sensor detection area. If the person is on the edge of the detection area, the minimum requirement is an arm movement.
A light intensity sensor: it measures the average Lux level in a room (0 to 1000 Lux) and allows a lighting controller to manage lights. The measure may require calibration depending on the installation configuration. The room lighting is optimized according to the occupation mode.
A temperature sensor: an adjusted temperature measurement could be required to take into account the difference between temperature at the ceiling and desk levels. For optimum temperature measurements it is recommended to use a remote control with a temperature sensor. The temperature information will be more accurate and available on the network. This configuration only requires a multi-sensor with a presence detector and a Lux level sensor.
The RJ Adapter enables the compatibility of PTU Series controllers with the MS2.

Suggested Replacement Products
Spec Sheets

| Document Type | Document Title | Description | Updated | View | | |
| --- | --- | --- | --- | --- | --- | --- |
| SPEC SHEET | MS2 Series Spec Sheet | RJ9 ceiling mounted multi-sensors | 6/13/2019 | View | | |
Specifications

| | |
| --- | --- |
| Brand | Distech Controls |
| Product Type | Occupant Interfaces and Room Sensors |

| | |
| --- | --- |
| Subcategory | Room Sensors |
| Sales Regions | EU |
Technical Documents (e.g. Installation Instruction, MSDS, CAD)
Marketing Material (e.g. Brochures, Sell Sheets, FAQs, )