Enhanced Guest Comfort And Control
A fully connected and personalized guest room provides a truly memorable experience that your guests expect. Increase insights for enhanced guest room management efficiency, savings, and operational performance. Distech Controls proven open and future-ready solutions create a guest-centric hotel experience that makes guests feel at home and keeps them coming back for more.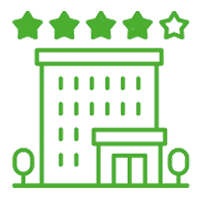 State-of-the-art User Experience
Convenient touch panels provide guests with easy lighting, curtain, or blind control, as well as a "do not disturb" setting that can be activated from the comfort of their beds. Allure UNITOUCH uses the latest multi-touch color display technology and allows guests to manage in-room comfort settings. Allure UNITOUCH functionalities can be mirrored on our free my PERSONIFY mobile app and easily linked to a guest's phone via Bluetooth.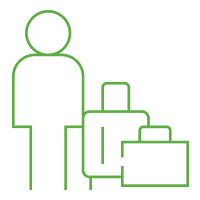 Multi-system Integration for Improved Guest Satisfaction
Link our building automation system with 3rd party software via our open RESTful API or ECLYPSE Sky Ecosystem SDK to create apps that engage guests. By integrating with building services and your rewards program, guests can conveniently use their smartphone to unlock their room door, adjust room temperature settings, check wait times at the on-site restaurant, and find their way to the hotel gym or spa.

Operational Efficiency
Enhance staff visibility of room occupancy status, improves maintenance efficiency and response times, and offers the best guest service experience possible.

Energy Savings
With unified monitoring and control functions, you can achieve energy savings, improve guest comfort, and provide a quick response to any maintenance issues that arise.
Learn why hotel managers are turning to Distech Controls' proven building automation and energy management solutions
Download Brochure
Building Automation Products for Hotels
Distech Controls offers a completely integrated BMS that supports your hotel's comfort requirements and sustainability strategy.
ENVYSION
Responsive, Web-Based Graphic Design and Visualization Interface
Sky Ecosystem SDK and much more...
Custom guest-centric mobile apps and direct connectivity to the most used PMS and advanced services through our network of digital partners.
Your Resources

Get access to the latest tools and resources including documentation and information on our products and building management solutions and find out why more buildings choose Distech Controls solutions.

For Engineers

For Facility Managers & Building Owners
Interested in Getting More Information About Our Solutions for Hotels?