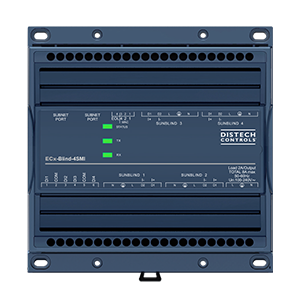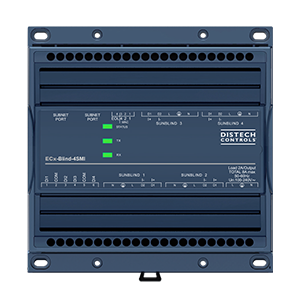 ECx-Blind-4SMI
Only available for the European market
The ECx-Blind-4SMI Series Expansion Modules are microprocessor-based interfaces that extend the number of inputs and outputs provided by the ECLYPSE™ Connected Series Controllers.
When connected to an ECLYPSE BACnet/IP controller, each expansion module can control up to 4 SMI (Standard Motor Interface) shade / sunblind motors without any manual addressing to do.
Custom program the ECx-Blind-4SMI expansion modules directly when configuring the main HVAC controller using EC-gfxProgram. This allows you to quickly and easily create your own control sequences capable of meeting the most demanding requirements of any engineering specification.
Suggested Replacement Products
Technical Documents (e.g. Installation Instruction, MSDS, CAD)
Marketing Material (e.g. Brochures, Sell Sheets, FAQs, )
Start Configurating a Product